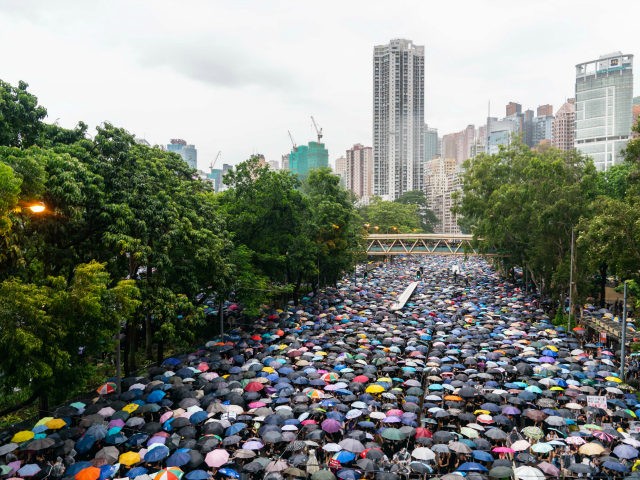 In my last newsletter I mentioned the hand signals that the Hong Kong protestors have developed. But that only scratches the surface of their ingenuity and imagination. This report by Nick Taber gives a glimpse into their methods, which, crucially, involve acting without formal leadership:
Joshua Wong, the strong and charismatic leader of the Umbrella movement in 2014, was jailed in 2017 for unlawful assembly. With strong leaders present, the authorities can arrest them, fatally weakening a movement. Given the deterioration of the rule of law in Hong Kong, the authorities could conceivably jail all of the movement's linchpins with considerable ease. But with a leaderless movement, the authorities have no such power. So far, the Hong Kong Police Force has arrested hundreds of protesters while the movement has not lost any momentum because the contribution of no single individual is vital.

Just as they are doing with seemingly every obstacle in their way, Hong Kong protesters innovated around the need for a strong leader. They are using communications technology to be both highly organized and leaderless, leaving the authorities unable to take out any key elements that would cause the effort to collapse.

Where a strong leader would make strategic decisions, the protesters are using a Reddit-like forum called LIHKG where ideas can be upvoted, allowing the best ones to rise to the top.
What's uncanny about this, to me, is how much it echoes a model of distributed action imagined a few years ago by Adam Roberts in a novel called New Model Army — a novel I wrote about here. Roberts imagines a near-future world in which New Model Armies (NMAs) — collectivized and non-hierarchical organizations of mercenaries — have become major players on the European political scene. The novel's protagonist associates himself with one of those NMAs, called Pantagral. From my post:
The really fascinating and, to the British Army, disturbing thing about Pantagral is its ability to change its shape and extent at will. Its soldiers can form into one enormous mass in order to attack a city – acting for the time much like a traditional army – but then at need dissolve into mist. Soldiers just go away and find shelter somewhere, bunking with friends or in abandoned buildings. They stay in touch with one another and when Pantagral decides to reform, they rise up to strike once more.

In short, they behave like a slime mold, which changes size, splits and combines, according to need, in such a way that it's hard to say whether the slime mold is one big thing or a bunch of little things. Slime molds and social insects behave with an intelligence that ought to be impossible for such apparently simple organisms, but, as Steven Johnson points out in his fascinating book Emergence, simple organisms obeying simple rules can collectively manifest astonishingly complex behavior.
Compare this to Taber's account of the Hong Kong protesters:
Another element to the protesters' resilience was the decision to abandon the occupation strategy used in Occupy Central protests of the Umbrella Movement in exchange for a highly fluid approach. The protesters package and sell this guerilla approach with the phrase "Be Water," coined by Bruce Lee. With this phrase, the protesters are making a counter-intuitive strategic insight into crisp, elegant, and motivating message. Having arisen from people's fear of being arrested, the subtext of the phrase is that being strong and effective doesn't mean standing your ground. It means retreating to fight another day. The reason the Umbrella Movement was not more successful was, in part, its rigidity. Protesters stayed mostly in one place where they could be identified, monitored, and eventually arrested. The protesters saw that a fluid approach, where swift retreat from momentary danger is not seen as cowardice, would be a stronger one under Hong Kong's undemocratic conditions. This insight, which the protesters are putting to great practical use, is the legacy of ancient Chinese philosophy for governance and military strategy. Lao Tsu said, "Nothing is softer or more yielding than water. Yet, given time, it can erode even the hardest stone. That's how the weak can defeat the strong, and the supple can win out over the stiff."
Consider also this front-line report by Maciej Ceglowski — the maker and owner of Pinboard, the bookmarking service I much love — which confirms Taber's account: "The protesters learned in 2014 that having leaders was a weakness. Once the leadership was arrested, the heart went out of the occupy movement, and it lost momentum. So in 2019, there is no leadership at all. The protests are intentionally decentralized, using a jury-rigged combination of a popular message board, the group chat app Telegram, and in-person huddles at the protests."
Ceglowski goes into more detail on the tactics:
We move in the direction of City Hall, down a thoroughfare lined with Times Square-like animated advertising. The crowd boos and shines lasers on a large animated sign belonging to a mainland Chinese newspaper. Then there is a sudden stop and a sea of hand gestures, thumb and pinky out, hands twisting rapidly. Someone up in the vanguard needs an Allen wrench! This is procured and passed, and then the gesture turns to a "C" shape. They need a monkey wrench!

Finally, whatever barricade full of hex nuts that is impeding our progress gets dismantled, and the crowd flows on through.

The march is entering the administrative heart of the city. It parts for a while to let through some trapped buses and taxis, and then re-forms again, moving toward Central. We are getting close to police headquarters, and soon a decision will be necessary. As we get closer, all motion stops, more consultative huddles form, and twenty or so aimless minutes go by.

Then, a hand gesture. Retreat. The police are too strong here. The crowd heads back in the general direction of the park.

A woman standing on a concrete planter by the MTR station is yelling "go to Tsim Sha Tsui!". People are looking at their phones, checking the latest news. Some of the Telegram groups around the protests have tens of thousands of participants, and information gets amplified quickly. We decide to follow the woman's advice and take the train to Kowloon.
The New Model Protest is here. Amazing.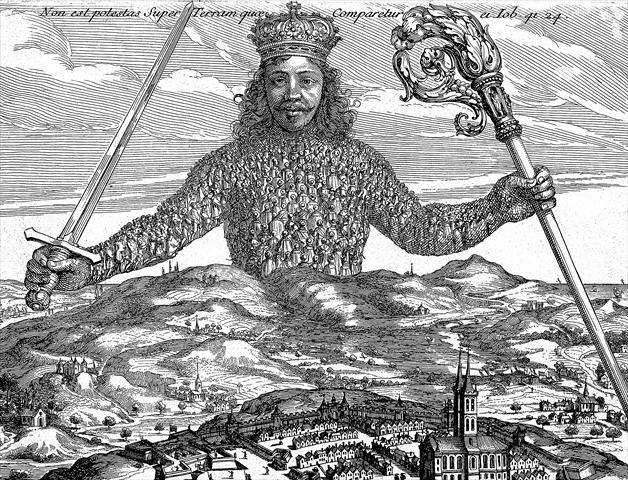 From the frontispiece of Thomas Hobbes's Leviathan
---
STATUS BOARD
Work: School starts a week from today! (Which still, after all these years, makes my heart beat a little faster.)
Music: The string quartets of Shostakovich.
Reading: Hannah Arendt's On Revolution, which is giving me so, so much to think about.
Food and Drink: I spent most of last week in Chicago visiting my son — photos may be found here — and I ate enough and drank enough that I really don't want to think about it. Time for a purge!
---
by Brett Foster (1973-2015)
It's almost time to set aside the waning
distractions of first youth, the life contained
for years at home. What's home? The place you grow
out of, everything receding slowly,
fading like a chalked sidewalk in the rain.
Leave childish things behind, said a certain
fellow. (Others afterward.) Don't remain:
the friends gone late in summer let you know
it's almost time.
Don't leave behind new clothes, impromptu plans —
they'll match surroundings well, remind again
of shining coming: new homes to let go
of, too; the best things said; mind's overflow;
surprising callings; time for love, and pain.
It's almost time.