Hi hi!
Everything's still green and spring-y in the Bay Area, and I've been living like a vortex. Not in a vortex, not near a vortex, like a vortex. Me and mine are fortunate, so fortunate, but the last few months were still marked by instability, doubt, worry, quarantines and cabin fever, and crying, all the crying. I'm a big believer in crying (criers live forever!), but even I was like, oof...that's a lot of tears, y'all.
Some of the crying was what you might call 'positive crying', or at least 'kinship crying', like during the last hour of Everything Everywhere All At Once. (Oh, hey! That reminds me, it's AAPI month. Hang in there, my gorgeous gorgeous AAPI compatriots! ILU) Mostly, though, it's been one of those times that opens you up to everything out there. You crack open the door a little and suddenly the world comes whooshing in: all that's bright, all that's horrible, and suddenly you're a cute lil pink Kirby at the shitstorm buffet table of 2022.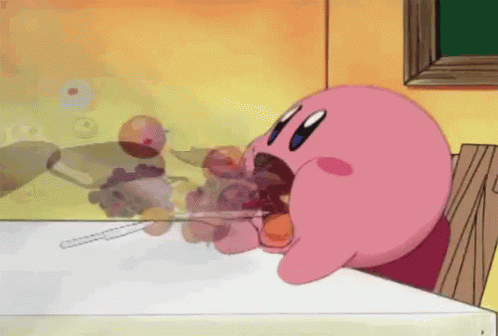 I've kept myself busy in the face of all of it because I don't know how to process anything if I'm not neck deep in work. The panny has made two camps of coping obvious. Those whose panic mode is getting Giles Corey'd under all that oblivion, and those who must keep swimming in defiance of self-care and sanity, flirting with constant burnout because stopping means sinking.
Of course I always feel like it's never enough, even when 'enough' is a luxury. That's my ✨brain✨ on limited serotonin! So on top of 2022, mama-work and work-work, I've been hard at work on a number of short stories. I'm about 50k deep into a first draft of a novel. I'm also slowly chipping away at some new pieces for Cormorant, but check out the made to order rings if you're looking for a little new sparklies.
Within this newsletter you'll find:
Main essay: The Case Against Harsh Critique (link)
Book recommendations: Special edition for AAPI Month! 🥟
Lil bits at the bottom
Enjoy! Until next time, your resident auntie-in-training,
Ash
---
The Case Against Harsh Critique
I used to consider harsh critique the road to improvement, a necessary tool for creatives. Now that I have the ability to deliver truly crushing feedback, I'm less inclined than ever to do so. Why should we cool it with these epic takedowns, and what does life look like beyond harsh, gatekeep-y critique?
---
📚 Books Books Books
Check out my Asian / Asian American bookshelf! These are a few of my favorite books in celebration of AAPI month, but I'll add to this list over time as I remember and read more.
Support awesome writers (and me, for like, $.50, if you deign to shoppe at mine olde bookshop.org tytyty)
---
Last lil bits
I've restarted my Alphabet Meditations as an effort to write more casually and in longer form (take that, Twitter!). You can read my first meditation which doubles as a re-intro to the project here: A is for Again.
Question: Are you into audio? I'm thinking of recording a few essays (like the one above) to accommodate folks who might prefer hearing rather than reading.
---
You're receiving this newsletter because you signed up to hear from me at some point. If you enjoyed it, I would be 🙏🙏🙏 endlessly grateful if you told a friend. If you didn't, or you're, like, who tf is this??? no sweat! I won't take it personally if you feel the need to unsubscribe. Thanks so much for being here regardless.