Hullo.
More Grimness
DIERPG
Teeth
No Links
Byyyyeeee!!!
---
And Si's steps up, spiked bat in hand, with Lorenzo Tammetta and Phillip Sevy taking over from Alessandro Vitti for the final episode of Nightcrawlers, which is epic, emotional and has some of my fave stabbings in the Krakoan age.
Next week: Dominion with Paco and Lucas, where I start collecting signed apologies from anyone who said that the crossover wouldn't impact Krakoa.
---
Despite my protestations that RPGs lead to losing subscribes, last week brought in enough new readers to push me over the next payment threshold. So let's do some more RPG coverage, and see if I can push it back down and I can save $5, which I can then throw at this Kickstarter.
Say hello to Teeth, in the medium of video.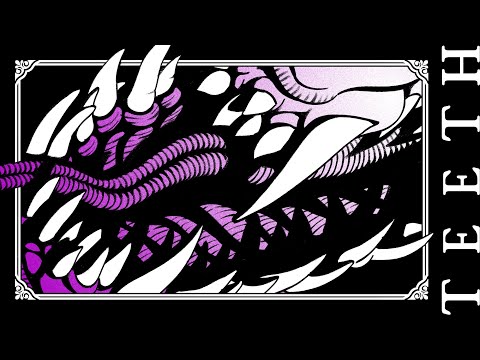 Jim Rossignol (who you'll know from co-writing the (er) cult classic Ludocrats) and his comrade in arms Marsh Davies have been working on Teeth for ages. It's a fascinating gallery of grotesques, powered by the blades in the dark system with a style all of its own – Marsh's black and white art really brings its own mood. I think it's excellent, and gave them a quote about it…
…which sounds like me.
The game's done, playtested and ready to print, making it a really restrained kickstarter.
I thought I should interview Jim about it here. So I did. Go words!
KG: Why?
JR: Well, I mean, why not?
Have dice and pencils, can write, will make tabletop role-playing games. Why wouldn't you make a tabletop RPG if you had the opportunity? More specifically though, I am just abjectly terrible at making things on my own and TEETH happened because someone else confirmed for me that it was a good idea and to get on with it, and offered to help. For a writer, specialising in that famously solo activity, I have a simply dreadful time doing anything without companions, friends, and allies, and with covid landing in that particular year there were quite a few people at home doing not all that much.
One of them, crucially for this tale, was a member of my regular RPG group who was waiting to be able to move to the US to be with his fiance. That was Marsh Davies (of Crate & Crowbar, formerly Mojang and even more formerly Edge Magazine) who had shared my dissatisfaction with the exquisite fantasy RPG Symbaroum and wished to do something about it. I don't know how familiar you are with Symbaroum as a game, but it's just incredible to behold. There are very few books that hold a candle to it in presentation, imaginative flourish, artistic endeavour, or generally provocative allure. It's a masterpiece. And yet we didn't enjoy it. The frustration was palpable.
Fresh from Blades In The Dark we just wanted more games that performed the gnarly narrative acrobatics /that/ game enabled. Multiply this by time spent dreaming of eerie moors and uplands, and divide by six months continuously trapped indoors playing Hunt: Showdown on our desktop computers, and you can see how the influences and desires began to build up to a critical head of steam. And so we started on a characters-go-into-dark-forest-to-hunt-monsters thing that initially swerved towards being trad fantasy, then towards fictionalised victoriana, then back into a sort of 16th century period work, finally settling on the 18th century. And that, I think, was because Marsh and I revel in the trappings of that era: the carriages, the wigs, the terrible food, the fancy balls, the hypocritical politics, the muskets, the pies, the hats and the lack of good dentistry.
But also I had just always wanted to write an RPG. And that was TEETH.
KG: Me too, except mine wasn't called Teeth. I'm sometimes aware that our works are in some weird extended tangential conversation in public about the nature of the country we find ourselves in. How do you fit Teeth into the canon of your work? It's perhaps the most clearly extremely British of them, with all its incredible grotesqueries. Hell, the Random Generation Table Of Good English Names ("Halpard Lowerslop", "Cunksmith Corkerson", "Dilweena Breakly") and the random pie table (with four columns) is something else. Why do you and Marsh love this stuff?
JR: Teeth is definitely a sort of psalm to Britishness. And I think it's a mature Rossignol work: I couldn't have created it in quite the same way as a younger person, even though many of the same key obsessions and interests (as well as references and jokes) were there from early on. Marsh and I have a love for a certain grim humour that is both silly and horrible. But it links to something you used to say a fair bit: just because we're being funny or silly doesn't mean we're not taking the subject matter seriously. Teeth is an expression of that. It's a horror comedy, based on our own horror and amusement at the country we grew up in. I think everyone who grew up with a certain provincial Britishness brushes up against this stuff: the idea that the UK has become a sort of theme park of its own past, but if you actually care to dig down any depth at all it's all blood and bones and, well, teeth.
Only last night I was talking to Marsh about how the word 'grotesque' has come to just be an adjectival synonym for ugly, but really when you use it as a noun, it has other connotations. And I think it's that stuff that we pick up on: the interweaving of comical humanity with nature and politics, the way everything is connected, from the vowel sounds we use through the logic of pies. The list of English names was one of my favourite things in Teeth because the names are so ludicrous and so nonsensical but they still sound English, they still have a ring of authenticity despite being caricatured and lunatic and grotesque. I can't speak for Marsh exactly, but I think there's something in that caricaturing and cartooning that we both enjoy sharing. It is a sort of all-encompassing love of country that swerves patriotism and gawps at the awfulness and beauty of our place and our history. The pretentious terrors of the North Atlantic. England, and specifically England rather than Britain as a whole, was at both the peak of its power and the peak of its dreadfulness in the era we landed on, and I think that's important to understanding our particular appreciation of the topic.
KG: When we talked earlier, you were really concentrating on a monster hunting RPG with the Blades in the Dark structure. In the end, while keeping that as a core activity, you've moved to a much wider view of life of a hunter in the vale and what they get up to. Care to talk a little about the journey to the finished game?
JR: So the tagline ended up being "a game of occult criminality and monster-hunting, set in a cursed corner of 18th-century England." Originally the occult criminality bit was incidental, and it wasn't set in England. But the journey was mostly in the playtesting. What we realised, quite early on, was that as soon as our players rapidly discovered that they didn't have to be heroes, they weren't. The setting very much supported them being villains, and many of them just wanted to play with that. Perhaps you want to talk to the monsters? Perhaps it's down to the key RPG thing of asking "what do these characters want?" not being all that interesting to us if the answer is simply "to hunt monsters".
If it's that bound up with an additional agenda, a secret and dangerous agenda, it suddenly becomes more interesting. So the outfits became foreign agents, or zealots, or were simply in it for the money. And as soon as those agendas came into play then our game expanded beyond hunting monsters and into crashing weddings, assassinating nobles, breaking into private libraries, sabotaging rival hunters, and exploring abandoned manor houses. The monsters are always there, and they power each cycle of the game, but we never played a campaign where the characters didn't end up hijacking barges, or having a gun fight in a brick kiln, or playing cards with the devil. The obvious move was to be explicit about that, and to make it a part of the game. To be clear, an outfit /can/ just be in the Vale to hunt monsters as King George has commissioned them to do, but even then they'll find themselves embroiled in a plot to steal a skull covered in black wax, to perform a ritual which will weaken a changeling bishop… and so on. The canvas broadened and we rolled with the implications of that. It wouldn't have been fair to do otherwise.
KG: And to really state the obvious - why do you love Blades so much?
JR: It has produced the best moments at the table with the least effort. Other games have had their moment, and I have been reduced to hysterics by D&D, but Blades has outdone everything else in play. I think that's been amplified by the fact that I am very much a seat-of-the-pants GM. I have always slightly resented games where I have had to do a lot of planning, and I remember Quinns explaining Blades to me, saying "I just play to find out what's going to happen tonight". I was thinking "well I always do that in RPGs," but it was only when I ran the system that I really understood what he meant: it is wholly structured to allow for that improvisational mode of play that brings everyone at the table into the story. It's not alone in that, of course, a bunch of narrative games going back years have that freedom of approach in them, but actually it's the nuance and complexity of the Blades ruleset that really makes it sing a particular tune.
Harper's games are heavily rules-y in a way that delivers on specific concepts in a precise way. They're designed for a purpose and consequently Blades has this pacey, cinematic, heist-y feel to it which I find hugely rewarding each time we run it. There is so much structure there that it becomes an engine for enabling the kind of experience it was set out to produce. I haven't played Agon again since Gardiner ran us that campaign, but I had a similar reaction to that: "wow, it really does produce the kind of games that it promised, every time." We were immediately Greek heroes of myth and legend. I am in awe of the deliberateness of that kind of achievement.
KG: The manual is a cornucopia of minor joyous weirdness and proper creep. It really does mash STALKER into the League of Gentlemen's Royston Vasey. What's your favourite bits of Teeth? What stuff do you think people will get the biggest kick out of?
JR: It's a slab of that stuff. I think people will enjoy just exploring what we made. We've been crashing genres headlong into each other and writing up the chaos. The worldbook part is up front, right there, with maps and rumours and monsters. And the bestiary is central, physically, to the whole book. I love the range and bizarre implications of the creatures there. In fact my favourite bits have generally been how Marsh and I have pushed things back and forth - both rules and systems, as well as lore, characters, and general ideas - and interpreted them. There have been moments of epiphany and breakthrough, especially collaboratively, which I am sure you are quite familiar from your own work. Quite often I have written down a name I found funny, and then Marsh has attached lore to it, or drawn a character portrait, and it makes me laugh out loud or wail in horror.
The way we dealt with travel, or with magic, has been a conversation. Often quite a difficult one. But I think it's the amount of detail that has really pleased me: the tables for mutations, foods, weird substances, people, names, places. The maps have a gorgeous wealth to them, too: with strange places marked out with lurid topography. Villages with threatening auras. Teeth is a really heavily prompt-y book. There are a huge number of leads and clues and ideas, which often lead into each other or are connected in a way that leads a breadcrumb trail through all the lore, if you care to find it. Marsh and I have been of the same mind with this stuff: if readers dig for treasure in a book, they should find it. It's not simply about the explicit surface detail, and that's something that really satisfies me that we've done a good job.
KG: Thanks, Jim.
Teeth is presently kickstarting. You can support it here.
---
From a kickstarter starting kicking to a kickstarter kicking everything out of the door. Imminent last week and in the recent past now, RRD updated with the shipping schedules for DIE RPG in various regions. Short version is that UK, EU, Africa, South America and Middle East should have had their confirmations by now, and shipping this week – I've seen some people say they've had their delivery slot for the coming Monday, which is amazing. The US has books arriving Mid-may, and will be confirming a better time then. Central America and the Caribbean still has a couple of weeks to lock addresses and pre-order if they wish. Australia, New Zealand and Asia is in the process of locking their local distributions, but if that falls through, it'll be coming via the US, and should expect a lock around the time of the US.
Anyway – that does mean that folks rather than us will be having the actual game. And while I know there's a lot of games already in process, I suspect folks are warming up. As such, it's an ideal time to have something to warm you up for the experience.
My first dungeon is – wait, let me just quote: "My First Dungeon is a tabletop roleplaying podcast where GMs learn new games from the creators themselves. Together, we build and run their very first one shot and then circle back around to discuss what went right, what went wrong, and how we can make our next game even better. Each episode features immersive sound design and music that invites the listener to the table and brings the epic worlds of our imagination to life. "
Brian Flaherty has got a crew together to do DIE, and it's great. Here's the trailer link, and there's plenty more teasers on the twitter thread.
There's eight episodes coming out, three of which are already out. The first is Grant and myself being interviewed. The second is the session zero persona generation, and the thid is full into the world. The cast are great, the sound design is something else and if you want a burst of DIE, this is an amazing resource, and also great entertainment.
Jump aboard. This is lovely stuff. Available from wherever you get your podcasts from.
---
This week's main work has been two-fold. I'm breaking ground on a new project outside game, sending the mails to turn abstract projects into real ones (I've got one project I'm still trying to cast an artist for, which is a fascinating challenge, and also a battle). Most of all, I've been writing my keynote for TAGGS on Friday.
I don't do enough public speaking to know this by heart, so I googled to check how long a speech should be to last an hour. 9000 words, apparently. I'm aware that's not going to be true for me, as anyone who has tried to listen to Decompressed at a higher play rate will realise. I am more than a 9000 word an hour speaker. I may be a 9000 word a minute speaker.
So I've been writing a bunch. The document is around 8000 at the moment, and I haven't cut and pasted the various quotes in yet. I should wrap it up tomorrow, which leaves Friday to make sure it's not total gibberish.
Hence, I'm stopping now to ge back to it.
Speak soon.
Kieron Gillen
London.
19.4.2023