Hullo.
Four
It's a Sins of Sinister
Dungeon nearly done
Charlotte
Pitch
Links
Byyyyeeee!!!
---
This week is a lot. Let's start with...
And after thirty issues, a six issue mini finally ends. This one was a journey. I realise that for all the things I've built from the ground up, this is the longest one which has a single creative team throughout. This is a solid burst of Dan, Tamra, Ed and myself. We started, grew our story and worked out where to end it. I suspect if you told Dan's DC fans that there's five full trades of him unleashed would make their heads explode.
Anyway – we land it, for now. I smile a little. For all the ideas that filled the book, this fundamentally became a story about family, and the things they do to one another. I really like where we end up here, and hope you enjoy it.
There's a preview here and you can buy it anywhere.
A lot of AXE, before the final issue next week. AXE: Eternals continues the tripartite focus on the key players putting those pieces in place for later, Immortal X-men #7 focuses on Nightcrawler's actions during AXE 5... and afterwards, and Death to the Mutants #3 does the same from the Eternal side, though with less (but more than zero) Nightcrawler.
One of these three issues includes the first Marvel page I executed entirely by myself. See if you can spot it. You'll be able to spot it.
The reading order is (including last week's Starfox): Immortal X-men #7, Death to the Mutants #3 and then Starfox#1. And then AXE: Eternals #1 wherever you want to put it, as it's on its own thread.
It's not actually that simple though. In reality, this is the sort of structure is...
I think Immortal #7 is best read before DtM #3, but that's a judgment call – DtM ends slightly later in the timeline than Immortal, and both are written to try and avoid spoiling the other one. Starfox is definitely after both, but also stands alone (and includes some information from DtM 3). And then there's the other thread of the story, which is three issues forming its own structure, of an entirely separate thread to the others.
This is a fascinating way to think about story. The weird fractal nature of exploring a space is actively odd the more you chew it over. We say "Event" and the word has become meaningless, but it ends up being feeling more like a historical event, like – say – a war. A setting for stories, meaning you're thinking of the nature of the backdrop for what you're doing. Yet simultaneously, it is a story in and of itself, and the pieces are being put there to be assembled later by the reader, either explicitly (as stuff which is referred to the final issue) or implicitly (as in, your understanding of what happened which isn't explicitly called back will influence how you feel about what you're seeing.) It's odd. If I published 18 short stories and had them in this kind of structure they'd be accusing me of radical experimental modernism, but in comics, it's viewed as pure commercialism.
Now this is making me want to write a novel like one would write a crossover, so I better stop, before that settles into my brain.
If you want a spin on all of the above, I see the shipping schedule and Si's Legion of X also drops this week, which goes alllll the way back to issue 1 for the Uranos/Legion confrontation... but the whole story is between issues 1-4. Where does that go in a reading order? Probably immediately after issue 4, either before or after X-Men Red #6? Either way, it's a good one. Si and Dike Ruan present Uranos' arsenal with all the weird sci-fi horror poetry you could hope for.
Anyway! Previews? We got 'em. AXE: X-Men #1 is here, Immortal X-men #7 is here and Death to the Mutants #3 is here. I'd feel guilty of playing favourites if I included a page from just one of them, and I'd make this way too long if I included all of them, so let's stop. If you want to see, click. I believe in you.
And next week: AXE: Judgment Day #6. Phew.
---
This was announced at New York Comic Con. It's Si, Al and me doing a crossover together, taking all the Sinister drama and turning it into... oh, let's quote the press release.
IMMORTAL X-MEN, X-MEN RED, and LEGION OF X will be washed away, transformed into three limited series: IMMORAL X-MEN, STORM & THE BROTHERHOOD OF MUTANTS, and NIGHTCRAWLERS! Series writers Kieron Gillen, Al Ewing, and Si Spurrier will pen their respective new titles, joined by artists Paco Medina, Patch Zircher, and Alessandro Vitti. Tackling three separate time periods, each superstar artist will draw an issue of all three titles as consecutive issues propel the Marvel Universe further and further into a dark future, dramatically escalating the stakes with each startling time jump. 10 Years… 100 Years… 1000 Years… The Powers of Essex will seek to stretch beyond the limits of time and space! All three writers will continue their current story plans after the X-Universe shattering finale one-shot, SINS OF SINISTER: DOMINION #1!

This universe-melting X-event will introduce a horrifying timeline that makes the Age of Apocalypse look like the X-Men Swimsuit Special as Mister Sinister's repulsive plans come to fruition. Currently playing a dangerous game with the very timestream of the Marvel Universe in the pages of IMMORTAL X-MEN, Sinister's uncontrollable lust for domination will finally be satisfied, but at what cost? It's the end of the world as we know it, but at least Sinister feels fine. For now. Can that last? Especially when we discover that he really is his own worst enemy... 
Wait – new minis. What do they look like?
Yes, I did have the rename of "Immortal" into "Immoral" in my original pitch document for Immortal. And don't worry, Immortal will be back after this.
Oh, I gave a quote too.
Sinister's lurked around, being sinister for all the Krakoan Age. Eventually, he was going to make a play. This is it, and it's bigger than you can imagine, stretching across 1000 years of nightmares. Dystopic future stories are an X-Men classic. We wanted to find a new way to approach that, and give something we haven't seen before. I think we've pulled it off. Sinister gets exactly what he wants, and it's hell for everyone. Including Sinister."
And here's the teaser trailer...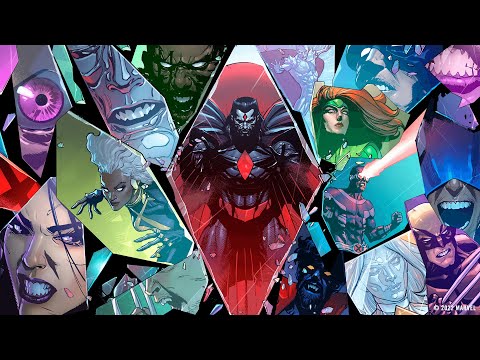 Here's the checklist – as you see, Immortal 9 and 10 are the set up.
Lots more to come, but as it all explodes in January, let's keep it a little quiet for now.
That said, Legion of X #6 coming out this week got me thinking of Si, Al and I. In terms of what our books did in Judgment Day, the nesting structure of X-Men Red #5 being inside Judgment Day #1, and Legion of X #6 being inside X-men Red #5 is a fun example of how we can work together intricately and additively, as well as – I think – showing how emotionally we commit to playing with each other's ideas. In today's Immortal X-Men #7 you see me trying to write the Spark, as Si conceived it. In Legion of X #6, you see Si take Uranos and make him a monster of blank-eyed verse. I think a crossover made entirely of that kind of interplay is going to be really strong. I mean, I'm not even sure "crossover" is the right word – that's commerce again. I want to use the word "collaboration."
Anyway – that's probably reaching too far, and a sign I'm writing this too early with insufficient caffeine. But I think it'll be good, and can't wait to bring you into our hell future.
---
There's another DIE RPG kickstarter update, which Grant calls the "Outrageously close to completion" update. Because we're outrageously close to completion. Grant's a genius.
We really are worryingly close now. Will's handed in their last set of notes. I did my own final pass (and here's a selection of screengrabs of stuff which amused me). Mina's pulling together the pdf character sheets, which solve so many problems we've had along the beta. We're not putting a first timeline on the first PDF release, but it's a matter of "how many days?" rather than "how many weeks?"
Unless anything explodes and/or goes wrong.
Here's a couple of the pages from the most recent PDF Grant shares...
...though there's more in the link.
And you can still pre-order here.
---
Having not done any cons this year, I've missed seeing cosplay.
Katy Nethercote's Charlotte Bronte (From DIE) from PAXAUS did make my day.
---
The DIE RPG slack asked me about the process of pitching DIE, presuming it'd be tricky. I said I'd include my sort-of-pitch here, because it wasn't really a pitch. With my relationship with Image, it's a lot more casual – WicDiv had a formal pitch, even though we didn't really need one either.
This is what I lobbed in an e-mail to Eric, minus a couple of things I cut – some stuff about the financials of the book and something about release timing. Worth noting this was sent a few months after Strange Things came out, hence the sidebar.
To stress, don't pitch like this. You're not me. That said, it may be useful to show you what sort of ideas you put when describing a book. This is clearly DIE, except not.
Creators:
Kieron Gillen and Stephanie Hans
Pitch:
Have you seen Stranger Things? If so, the following may make you go waiiiit, but the book is 100% a different genre and it's the best way to explain what we're doing. I won't be using this when hyping to the press, and half way through the first issue there's no comparison. 
Anyway...
In 1991 six teenagers sat down to play a role-playing game. They disappeared without trace.
Two years later, five of those six teenager were found wandering a forest 200 miles away from where they disappeared. They were incapable of saying where they had been or where the missing child was.
It was considered lucky that five of the six teenagers were able to escape that terrible fate.
The year is 2018. Those teenagers, now 40-something adults are about to discover that no-one ever escapes.
DIE is the logical collision between the 1980s Dungeons & Dragons cartoon and Steven King's IT.
Overview:
What happened was that, in a modern Narnia fashion, these kids disappeared into the fantasy world and played fantasy characters of their creation until they were able to find their way home.
The story picks up with those 40-something adults - with everything THAT means - having this awful shared history come back. Half way through the first episode, they're dragged back, once more taking up the fantasy identities they played in the game.
And the missing kid? Now, he's the games master. He's God. Think Peter Pan as sociopath.
The story basically follows the leads trying to get back to their own lives... or maybe not.
This is really a mid-life crisis book. The point is juxtaposing the character's real lives,  disappointments or roads not traveled with these fantasy lives. For all the high adventure in it, this is grounded continually in the real world. At the most basic? Someone who maybe always wanted a kid in the real world has a kids in the fantasy world. The person who is a loser in real life is Lancelot here. Or flipping it around, characters who in the real world who have found peace have to face the childhood depression they thought they left long behind. Or both. Characters' emotional responses push and pull both ways, which is entirely the point.
In other words, it's emotionally complicated, while still presenting the reader with a ludicrously beautiful and highly conceptualized world. This is everything I've learned about fantasy thrown into a book - both the genre and the concept. What are dreams for, Eric? By the last issue, I hope to have found out.
It's also drawn by Stephanie, so this fantasy world is going to look ludicrously seductive.
Timing
Plan is Stephanie starts work in early June. She wants to basically do her outlines for the whole first arc (probably 5 issues) before painting it all. As such, we'll have to study workload before working out when is a credible release.
Unusual Things About Serialization
Okay, this is really odd and I'm not sure I can pull it off but...
I want to serialise a whole pen and paper role-playing game system in the back matter. So every episode basically tells you how to run the events of the comic as a role-playing game. By the end of the run, I'll have enough material to make the whole thing into a one-off manual explaining the whole game. 
Until then, it's just in the issues. It'll be written in an entertaining rather than rule-book fashion, so basically works as a world-book expansion for the main story for those who hate RPGs.
(Think what Hickman's done on EAST OF WEST as a good comparison. But more so.)
I have started work on this, btw. I suspect this could actually get some interesting press.
Length
Due to story reasons, I'd like 20 issues collected in 4 trades. It's possible that the issues may be a little longer than normal to make the trades meatier (25 pages x 5 = 125 pages, or 25 pages for first issue and 22 pages for the other 4 = 119 pages) but with Stephanie's work in progress art and covers, etc they'll likely be a good trade size anyway.
When I tightly plot it, this may change - while 20 issues would be very cool for story reasons, if the story needs more space, we'll extend the length.
Price
$3.99? I think so.
Anything Else?
Nah, I think that's everything. Do ask if there's anything else you want to know.
Enormously excited about doing this one. And a little scared, which I take as a good thing.
---
Yes, we didn't keep to that RPG in the back thing. The more I wrote, the more I realised it didn't really work in that partwork format for many reasons, not least the game spoils issue 5.
---
---
This is long enough already, right? I'll give you the toplines. I'm back writing script again. I finished the first draft of Immoral #1 yesterday and started on #2 today (I'd finished #3 previously, alluded to in a previous newsletter). A lot of extra work has been based around the final push on DIE RPG – just giving a final cast of my eye over things, and soon I'll have to do a tigther outline for the fallout of Sins in Immortal when we return. I know what happens, but I need to arrange it.
Here's a thing: yesterday, I re-installed a RSS reader. I haven't used RSS properly since Google killed Google Reader, relying on social media to bring me the stuff I'd normally read, or just remembering to check out certain places (it's one reason why I went back to newsletters so hard – it tickles the blog update stuff). This was prompted by Aditya starting a site, and having a moment of clarity about how starved I feel of good stuff. This feels somewhat revival-y, in a good way – as in, the modern internet is simply bad at its job. Or rather, it is good at its job, but its job is no longer actually serving the users, but profiting from the user, and I'm bored of having my extermities nibbled by a blank-eyed predator.
This house mourns Angela.
Speak soon.
Kieron Gillen
London.
12.10.2022