BY GREGORY ADAMS
You don't have to be a total gearhead to know good tone. Sometimes all you need is volume and a lil bit of intuition. That just may be the case for Hotline TNT's Will Anderson.
Coming off the recent release of the project's Nineteen in Love — performed on-record entirely by Will — the currently New York-based musician has been upgrading his live rig so he can blast through sweet-yet-sludgy, gain-crushed pieces like "Leave Of Absence" and "Had 2 Try". When it came to picking out a new amp, tech specs weren't much of a concern, so long as he could crank up some kind of distortion. In light of the fuzzed-out majesty of Nineteen in Love, it pays to keep things simple.
Shortly after picking up his new rig, and just ahead of hitting a New York Knicks game with a freshly-inked Knicks tattoo, Will got into sick nu-metal riffs, neck-snapping guitar techniques, and building up his current live band (including Vancouver-based musician, newsletter interviewee, and Will's Mr. Dusty bandmate, Katayoon Yousefbigloo).
This interview has been edited and condensed.
---
So what's the amp that you picked up today?
Will Anderson: I just came from buying it. It's a Randall full stack, that's as much as I can tell you about it. I asked my friend, "Can you find a big loud amp on Craigslist New York that'll be good for tour?" He sent me the link, so I went and I bought it. 600 bucks!
Did you go to someone's house to pick it up?
It was at a storage unit. He brought it to the parking garage, we plugged it in, and I turned it up as loud as I could.
Do you have a go-to riff when you're testing new gear, whether it's Hotline TNT or something else?
I would have [played a Hotline TNT song] but I didn't open my guitar case until I had got there, and then remembered I'd broken a string the last time I played. I was short handed; I couldn't really get in tune that well, so I just played a P.O.D. song called "Boom." I did a little bit of that, but it didn't sound that good.
It sounds like there's a lot of guitar stacking on Nineteen In Love —there's a dense, monumental sound to tracks like "Had 2 Try," for instance. Is there some *Siamese Dream* kind of layering going on, or do you just have a really thick tone?
There are probably at least four-to-five guitars on every song. I don't know if it's Siamese Dream or My Bloody Valentine level, but it's cusping on that.
With the tone, I record every single piece of this band in my house on GarageBand, but on this album I had an extra mixer who put some of her tones on things as well—I'd sent her the dry signals. But some of it I went back and was like, "nah I kind of like my original tone better."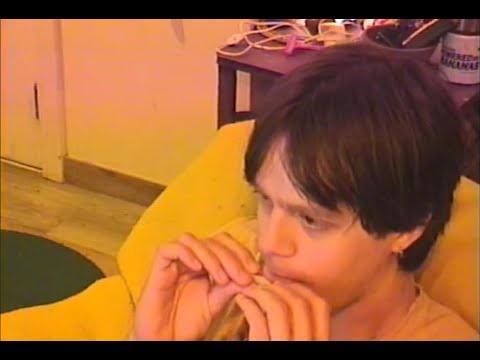 What draws you to a programmed drum sound for recordings, as opposed to a live drummer with a full kit?
I find it's easier to tell robot drummers what to do. I have a vision in my head, and I know what I want the beat to be. I'm pretty good at making it sound reasonably authentic, I hope.
There's this live vid of Hotline TNT playing Chicago's Viking Ski Shop….first off, you're playing this wild looking Strat-style guitar with all these strangely placed tone switches. What's the story on that, and do you still use it?
That's a Japanese Yamaha guitar. I don't know the exact model, but I bought it when I was 19 years old at Not Just Another Music Shop [in Vancouver]. I think it was 700 bucks. I couldn't afford it, so I had to pay for it in instalments. I thought it looked really cool. I really do think that you can [use] stuff that looks cool more than anything else, because it'll make you want to play more. I still have it, though I did switch to a new guitar in the live set up this year. I'm using an Epiphone SG now.
You're often bowing the body of the guitar to get those My Bloody Valentine-kind of dips on it. There's a comment on that live video that basically says "someone get this man a whammy bar!" Did you upgrade to a tremolo arm with that SG?
Not with this one. It's funny, over the years I've had people tell me that I'm going to break my guitar if I keep doing that, and I always tell them [I've had the guitar for] over 10 years. I mean, I get [the Yamaha] tuned up every once in a while, but it hasn't gotten too fucked up.
I originally got this SG as a stunt guitar for a music video—I was going to return it to a Guitar Center, a scam as old as time itself—but I ended up liking it, so I put stickers on it and I still have it. But with this one, I can see there's already a crack in the neck [from bowing the guitar]. I'm waiting for that to give; I will be bringing two guitars on tour.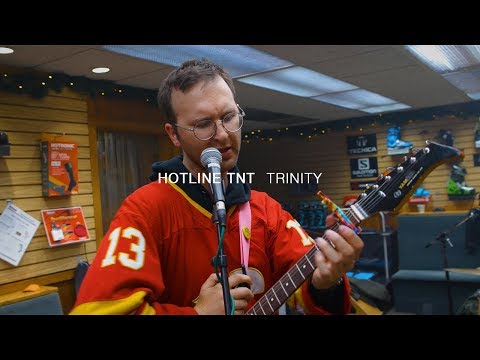 So you've got this new Randall stack to work with, but are there any pedals you rely on for the Hotline TNT sound?
Nope, just a tuner pedal. Often with this band I have to borrow an amp, for whatever reason. I just hope that it has on-board distortion.
The album is out on CD and LP, but not most streaming services. There is, however, a YouTube stream that has this comical skit in the middle of the video telling people to take a pause from the music, like if they were flipping the record over.
It's actually a call back to a Tom Petty album, Into the Great Wide Open. He did a similar skit on the CD version. I happen to have it, and it's so funny. He performs it himself; it sounds like he's on a farm— "take a break guys. The record listeners have to flip it over, so you have to wait too." I got my uncle to record the skit on our record. It's just a bit of fun.
Maybe I'm being a bit of a tease, or something like that. I know people would like to have it on those services, and I'm intentionally keeping it off to make them work for it. I know if it's on Spotify or Apple Music, you're going to skip to the best songs, or the singles, and that's not how I wanted this piece of art to be presented. You can still skip around on a YouTube video if you wanted to, but it's annoying —same thing with a record or a tape. You can skip around, but most people are just going to put it on and let it cruise.
You're recording everything on your own, but you've had a number of people come in and out of the Hotline TNT live band. Who's in your line-up now?
Every single tour has new people. My friend Nick is playing drums; he used to be in a band called Casual Hex from Seattle, but he lives in New York now. Austin [Noll] plays guitar; Sid plays bass, she lives in Philadelphia; [Puzzlehead/Big City's] Katayoon is going to join in on guitar. It'll be three guitarists
Kat and I have been friends and collaborators for a long time. I was like, "Hey, you want to play these shows?" and she was like, "What if I book the ticket right now?" Circumstances worked out. It's been great having her back in the mix.
What do you remember most about being nineteen and in love?
Nineteen is just such a nostalgic age for me. I was in love, actually, and living in New York, but this album isn't about that person, specifically. It's more about the feeling of love at that age, where it's really intense and dramatic.
You also run your Association Update fanzine, which often touches on the state of professional basketball. What's one of your hottest NBA takes for this current season, to tease the newsletter?
I've been predicting a Jayson Tatum MVP season for three years, now, and it hasn't happened yet; I don't think it's going to happen this year.
My hottest take, as a Timberwolves fan, is that I think—and hope— that Karl-Anthony Towns will be traded this year. It's not the hottest take—there have been some rumblings; people are starting to speculate; he's been liking some tweets—but I think it's what needs to happen.