Hey everyone, welcome back to Gut Feeling!
Still working out some kinks, but the entire archive has been moved from Substack onto the newsletter's current home at buttondown.email/GutFeeling. Looking forward to testing some features coming up through the platform soon, but in the meantime I'm going to kick off a semi-regular rewind of unpublished pieces that got lost over the years.
This profile on Betrayed was written in 2006 for Vancouver alt-weekly the Georgia Straight, when Betrayed was scheduled to open for Blue Monday's last show. Instead, Betrayed broke up and the piece got shelved…until now!
Aram Arslanian is currently fronting Change and hosting his One Step Beyond podcast, among other things, while Todd Jones's long-running, sonically devastating Nails project is working in altered form.
---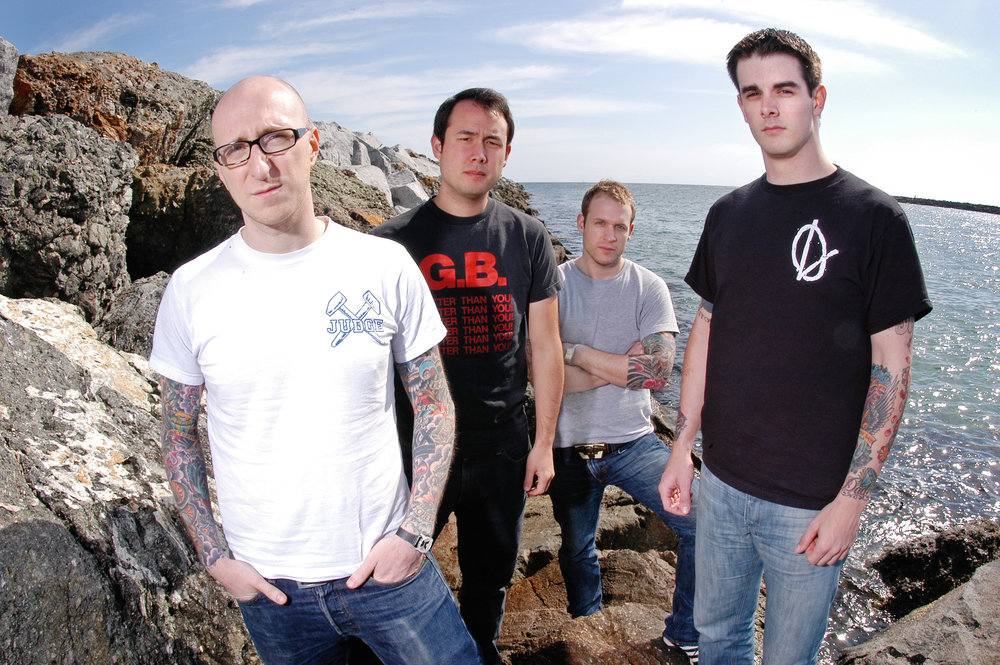 For most bands, getting together to play a show takes a few phone calls and a ride to the practice space to pick up gear. With Betrayed – a group with roots in Vancouver, Seattle, and Los Angeles – it's a matter of arranging flights to arrive at the venue on time. Vocalist Aram Arslanian enjoys performing with his band, but admits that being spread across the West Coast isn't ideal.
"Lately it's been frustrating because we really want to be able to play," he says on the line from a tour stop in South Carolina. "Every time we want to play a show it has to be this production and we have to fly people in. It's not like, 'Hey, let's do a show, have fun and play the new songs,' it's always a big deal."
Despite the complications of long distance relationships, the singer knew what he was getting into when he decided to start up Betrayed with his old friend, Californian guitarist Todd Jones.
"[Todd] wrote a bunch of songs and e-mailed them to me," Arslanian recalls. "I was surprised because he sent them over to me and they were exactly what I wanted to do."
The quartet, rounded out by bassist Greg Bacon and drummer Todd Preboski, take cues from classic hardcore acts Minor Threat and Dag Nasty, but adds a hard rock flavour to their music courtesy of Jones' intricate guitar lines and occasional wailing solo.
The axe-slinger has raised a few eyebrows from the punk scene with his boastful approach to guitar playing. "I'm an amazing song-writer. Nobody can fuck with my riffs," Jones said in the outfit's bio.
Arslanian insists the comment is tongue-in-cheek, but can't deny the skills of his band mate. "Have you ever met anyone that's as much of a shred master as Todd?" he jokes.
At times, Betrayed's 13-song debut album, Substance, sticks to the essence of hardcore. "Consequence" blasts by full-throttle with Preboski's machine gun skin hits laying the groundwork for Jones' jutting power chords and Arslanian's gruff shout. Much of the record, however, sees the four-piece exploring mid-paced rock territory, like the swirling melody of pseudo-ballad "Bring It To Life." While their sound rests squarely on lone-songwriter Jones' shoulders, the six-stringer's work schedule has sometimes led the group to seek a replacement for their rare gigs.
"Tour is really hard for him. He's got a full time job," Arslanian says. "I feel where he's coming from because it's [hard] for me to just take a month off of work to go on tour." The screamer's job as a substance abuse counselor in Abbotsford has made touring a little tricky – but his experiences at work, as well as his own stance on drugs, have helped him pen lyrics.
"Yes, we're a Straight Edge band. Of course I have songs about intoxicants and not getting caught up in addiction," the vocalist states firmly, but adds that being drug free is not the only topic that concerns him. "On Substance I'm really trying to approach the idea of not being a slave. Not just to yourself but to a lifestyle."
The Vancouver resident believes that escaping mainstream ideas is much easier downtown than it is in the suburbs. "Breaking free isn't that hard living in the Commercial Drive area where you're living in a fairly cheap apartment; you can walk up the street and there's the organic grocery store and everything is at your fingertips," he notes. "I work in Abbotsford where a kid growing up doesn't have those options. It's a great town, but basically kids aren't exposed to alternative thought, and I see these kids getting sucked into the culture of drugs and alcohol because they feel that is the alternative to everything they've been taught."
The singer drives this home on "Understand." The speedy punk tune sees him shouting to alienated youth, "A life so young, so full of pain, and I can't fucking blame you for using anything just to escape." The chorus assures them that they can get through the hard times like he did: "Believe me, I understand and I made it through."
While trying to avoid sounding like a PSA, the frontman uses his lyrics in Betrayed to show that people can escape the trappings of mainstream culture and drugs if they believe in themselves.
"I want to give them the idea that no matter how bad it is of course there's a light. But none of it stems from anywhere else but yourself," he states. "As trite as it sounds, that is the truth."
Betrayed ✖️ Understand (2006) - YouTube
Betrayed came together as a project between members of Carry On and Champion to simply create a fast, positive straight edge band. The result was a unique me…