---
While occasionally accurate, it's funny to think that a record label can be defined by a single genre. If you bring up Motown, Fat Wreck Chords, or Earache in conversation, for instance, many folks will start spinning the sounds of '60s soul, board-shorted pop-punk, or first wave death metal in their brains. That shorthand rarely takes into account the full scope of a label roster. There are often exceptions to the rule, and that's why this week we're talking about Jade Tree Records.
For a good chunk of time between the mid '90s and the mid '00s, the Delaware-based label was known for iconic emo-punk releases from bands like the Promise Ring and Jets to Brazil, as well as the adjacent experimentalism of Joan of Arc (themselves built from the ashes of punk group Cap'n Jazz, whose full discography was re-released by Jade Tree as 1998's Analphabetapolothology).
Despite big hits on the poppier side of punk subculture, Jade Tree's roots are in the straight edge hardcore scene. Co-founder Darren Walters previously pressed a 7-inch from New Jersey's Turning Point on his Hi-Impact Records (Turning Point would likewise receive a discography release through Jade Tree); before becoming Jade Tree, Walters and Tim Owen ran the similarly hard-edged Axtion Packed Records.
So, concurrent to that emo sweetness, Jade Tree often managed to throw listeners for a loop with the more abrasive side of their signees. Take the experimental, extended hardcore bursts of Fucked Up, the American d-beat of From Ashes Rise, or the spine-compressing tech-metalcore of Kentucky's Breather Resist.
While this isn't necessarily a list of the most brutally pounded albums on Jade Tree, this is a small sampling of the heavier bands that branched off of the "typical" Jade Tree sound.
---
Damnation A.D. – No More Dreams of Happy Endings (1995)
If the title hadn't already tipped you off, Damnation A.D.'s 1995 full-length debut, No More Dreams of Happy Endings, is a bleak and brutal foray into mid '90s moshcore.
Built around the core of songwriter/guitarist Ken Olden and vocalist Mike McTernan, Damnation's sound was bombastic, detuned, and often dirge-like. You can take that two ways—on the one hand, they lumbered into sludge-styled mosh dissonance with pieces like "The Hangedman"; on the other, there's a gloomy, nine-minute acoustic chamber piece reworking of Frederic Chopin's "Funeral March" in the middle of the album.
"No More Dreams" is the toughest of the bunch, a near-psychedelic display of overlapping moans and howls fit with an efficiently monstrous, quarter-bend earworm of a hook. A classic, unending riff in the vein of Unbroken's "Absentee Debate."
Honestly, this is probably the Jade Tree album I've turned to most over the years (though I only recently copped a physical copy). Repressed in 2019 with alternate artwork via Over & Out Recordings.
Cloak/Dagger – We Are (2007)
Prior to Cloak/Dagger, vocalist Jason Mazzola fronted Virginia's Count Me Out, who were part of straight edge hardcore's rebirth/evolution in the early '00s, alongside bands like Carry On.
Cloak/Dagger was a different beast, taking more cues from the hot-rodded, treble-heavy punk of Hot Snakes through their early 7-inches and eventual full-length debut for Jade Tree, We Are—take the John Reis-like descending pull-offs across the manically shuffled "Bended Knee", or the dark-but-poppy spindling of "Red Hair."
Colin Barth's guitar tone is all high gain orange lustre, favouring full-chord lushness at any speed (nuclear meltdown "Sunburnt Mess" is a favourite).
They are Cloak/Dagger. This is a great album.
Sweetbelly Freakdown – Sweetbelly Freakdown (1997)
At only nine songs, Sweetbelly Freakdown's self-titled full-length is somewhat of a lighter outing—even more so when you consider how both "Long Haul" and "MCR" appeared on an earlier 7-inch, and the album centrepiece is a loose drum jam— but all the same, it's a fantastically chunkified, quirky excursion in '90s hardcore.
Jason Farrell's weird, feral guitar riffs were complemented by vocalist Shaun Brown's coarsely barked-out Star Wars non-sequiturs ("Pleas to the Action Figure") and full-throated ode's about being a truck driver (the aforementioned "Long Haul").
There's some extra history with the label, as prior to this, Brown, Farrell, and drummer Alex Daniels had their previous band, Swiz, toasted by Jade Tree via the No Punches Pulled compendium.
While Sweetbelly Freakdown were short-lived, Farrell, Brown and Sweetbelly bassist Dave Stern continue to play as the more Revolution Summer-styled Red Hare (who likewise come extremely recommended).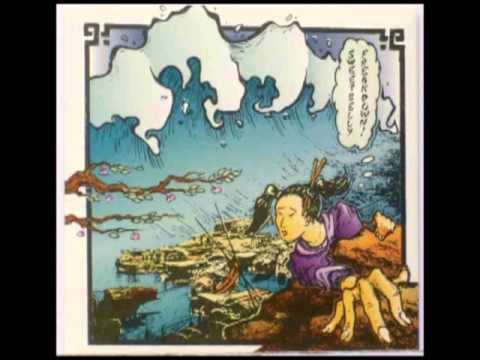 You can find more of Jade Tree's genre-flipping back catalogue over on Bandcamp.
---
End Hits
No bonus track this time, but a quick note that Gut Feeling is switching to a bi-weekly schedule for the next few months.
Already have a few stories in the works that I'm excited to share. Stay tuned!