BY GREGORY ADAMS
Unless you're a year-round horror fan, odds are good you up your slasher and monster movie quota once October kicks in. I know I do!
As we've officially entered the spooky season, I'm shaking up the Gut Feeling mini-guide template. Instead of a record label, this time I'm taking a look at the shredding music behind a handful of heavy metal horror flicks from the '80s.
The key thing here is that we're talking movies with actual heavy metal bands in the plot, not just on the soundtrack. So, no Dokken dishing on the Dream Warriors through the end credits of A Nightmare on Elm Street 3, and no shout-outs to Accept being the soundtrack to a guy cleaving through ghouls in Umberto Bava's Demons whilst riding a motorcycle through a movie house. Maybe I'll save those for next year's list.
---
Rocktober Blood (1984)
1984's Rocktober Blood is pure schlock, yet a bit a genre-mash, horror-wise. It's somewhat of a slasher, and somewhat of Scooby-Doo-ish murder mystery. At its heart, it's about a falsetto'd frontman named Billy "Eye" Harper who inexplicably kills a recording engineer mere moments after laying down some serious vocals on his band's new track, "I'm Back." A quick flash-forward finds the singer tried and executed, but when the surviving members regroup with new vocalist Lynn Starling as Headmistress, Billy returns from the dead to exact his revenge. It all caps with an extended concert finale replete with mock-"Eruption" guitar solos and a gore-flingin' stage show.
In real life, an L.A. group named Sorcery wrote and recorded the A-side of the soundtrack. Sorcery's line-up shifted a bit following their formation in the mid '70s, with Rocktober Blood being the first record of theirs to feature vocalist Nigel Benjamin, who had previously been in a version of Mott the Hoople. He'd also been in Sunset Strip glam band London, alongside future Motley Crüe bassist Nikki Sixx. For Headmistress tracks like "Rainbow Eyes", you've got vocalist Susie Rose Major's running raspy as the fictional Lynn Starling.
All in all, the soundtrack showcases some above-average metal you could slip on a mixtape between Dio, Tygers of PanTang, or even April Wine. I'll call attention to "I'm Back," in particular this wild, double-time bridge that pairs a simple, ascending guitar riff with Benjamin's never-ending, llama-on-a-speed-bender vibrato. Truly magical.
Killer tracks: "I'm Back", "Rainbow Eyes"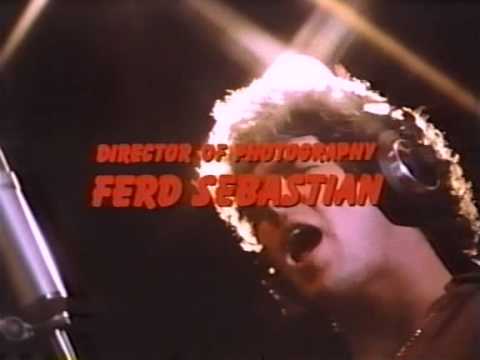 Hard Rock Zombies (1985)
Starting off with a gross understatement, 1985's Hard Rock Zombies is a curious film. The horror-comedy began as a movie within director Krishna Shah's low-budget romp, American Drive-In — as part of a double horror feature playing at said drive-in — but both Shah and co-writer David Allen Ball were enamored enough with their intentionally z-grade zombie goof to blow it up to feature length.
Without spoiling too much, the gist is that an unnamed rock group come into hard times on tour, first by getting thrown into jail by locals in a small town dead-set on outlawing rock and roll. After being saved by a fan, they fall upon tragedy when they die in an electrical "accident" during their first practice out of the slammer. Then they're revived when the teen, Cassie, cranks a boombox demo of a song their mustachioed-and-mulleted bassist-vocalist was working on, which just happens to be a dead-raising incantation. It's an overly complicated plot, and caps with a jarringly offensive plot twist, but it's mostly rooted in a so-bad-its-good kind of appeal.
The soundtrack was composed by Paul Sabu, a hard rock veteran who has ratcheted up songwriting credits on anything from Alice Cooper's Hey Stoopid, to Lee Aaron's Bodyrock, to a good chunk of Shania Twain's pre-country period.
Much of Sabu's score for Hard Rock Zombies is suitably chunky with its riffage, but the composer also goes for broke with mini-hoedowns, Peter Gunn-leaning spy rock, and other oddities. The movie band's body of work is likewise all over the map. "Shake It Out" sounds like Sammy Hagar jamming with the News on a cover of Toni Basil's "Mickey"; "Cassie" is a contextually yikes-y power ballad; "Street Angel (Mark of the Devil)" cooks with hellfire-licked guitar leads.
"Morte Ascendre," meanwhile, is the aforementioned grave disturber, Sabu giving the fleshed-out, "full band" version grimoire gang vocals, demonic bass rumblings, and hearty metal yells. It's the keeper of the bunch.
Killer tracks: "Morte Ascendre", "It Don't Come Easy"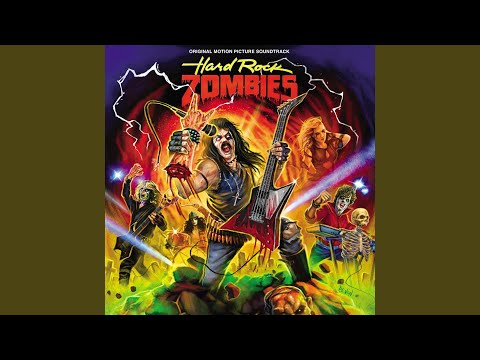 Trick or Treat (1986)
1986's Trick or Treat is probably the most beloved heavy metal horror film of the '80s. It's likewise the one on this list with the biggest budget, and it shows via some pretty top-notch makeup and effects for the era. Then again, it's the only flick on this list where a boom mic accidentally drops into a shot.
A true Satanic Panic period piece, Trick or Treat hammers in on the moral outrage of a town that bans rocker Sammi Curr from playing his old high school on Halloween due to his controversial lyrics and outrageous stage act (a news broadcast shows him choking a few pints of python's blood onto his torso mid-set). Ozzy Osbourne also cameos against character as a pious reverend trying to steer us away from rock and roll perversion.
Shortly after it's announced that Curr perishes in a fire, an obsessed fan named Eddie is given an acetate of an unheard Sammi track from a local DJ (played by Kiss' Gene Simmons), which ends up manifesting evil when played backwards. Naturally!
There's plenty of metal lore caked into Trick or Treat, with Eddie's walls plastered in old Anthrax, Judas Priest, and Kiss posters; he's also got Exciter and Megadeth albums by his turntable. The outlier in the hesher's collection is an Alternative Tentacles t-shirt, but it's a sick shout-out nonetheless.
Most memorably, Trick or Treat has a pretty wacky concert scene that's part hair metal vid, part Carrie. Sammi is played by Tony Fields, a gymnast turned actor-dancer who had also popped up in the "Thriller" video. While beefed-up and intimidating, he also pulls off some super agile spins and cartwheels during the concert performance, at least before he starts immolating students by shooting bolts of electricity out of his six-string.
A nine-song soundtrack was delivered by Fastway, which was founded by Motörhead guitarist "Fast" Eddie Clarke; the title track is a suitably raw rocker with some lightning-quick lead work. While not as "loud, fast, and thrashin'" as Sammi Curr's music is touted to be in Trick or Treat, the Fastway record sports a nice mix of Golden Earring-styled proto-glam boogie ("Hold on to the Night"), slow-mo menace ("Heft"), and hairspray-infused rebel anthems ("After Midnight").
Possibly the most terrifying twist of all: years after vocalist Dave King split from Fastway, he started up mainstay Celtic punks Flogging Molly.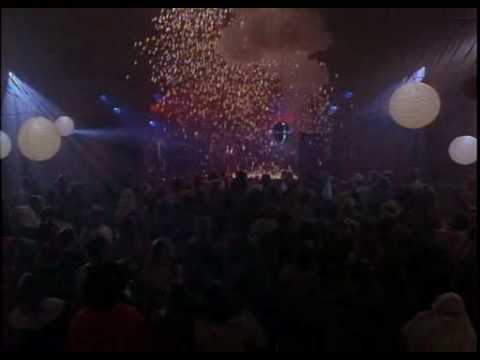 Rock 'n' Roll Nightmare (1987)
Where to begin with Rock 'n' Roll Nightmare, the supernatural slasher starring Canadian metal beefcake Jon Mikl Thor? This one takes place in a house in rural Toronto, where hard rockers Triton are hoping to write and record some sick hits. Turns out the place is infested with demons, though, and one by one the band and their groupies succumb to their hosts' dastardly doings.
The movie is high-camp, featuring a coterie of low-budget monsters and a gratuitously porny vibe that kind of puts the film more in line with Canuxploitation tax shelter flicks like Porky*'s. There's a ham-fisted plot twist that implies that everything is injected with a healthy dose of satire, but it sure takes a lot of exposition to get there. *Rock 'n' Roll Nightmare isn't the smoothest watch, but it does feature a pretty impressive battle scene between Thor — sporting spiked He-Man underwear and a sky-high hairdo — and an army of evil starfish.
When it comes to the tunes, Thor actually recorded a full album's worth of songs with backup band the Tritonz. It's often full of '80s shred and extra-gated snare drum echoes (see "Energy"). Thor himself wrote "We Live to Rock," which, as you might guess, is a rock song all about rockin'. While it pairs well with Rock 'n' Roll Nightmare's implied satirical bent, the song is no match for Thor's '70s glam bop "Keep the Dogs Away", or his rawest '80s metal anthem, "Anger."
Killer tracks: "The Challenge", "The Vortex"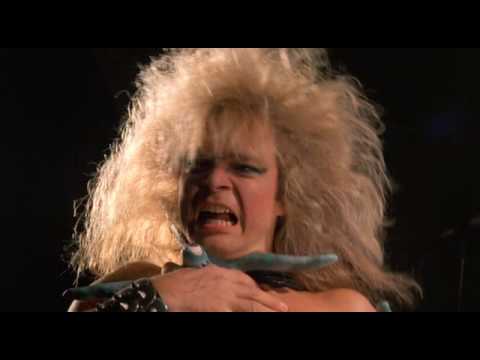 Black Roses (1988)
What a difference a year makes! Not too long after directing Rock 'n' Roll Nightmare, Jon Fasano returned to the heavy metal horror well with Black Roses. While not high cinema by any means, Fasano's follow-up is actually a competently made B-movie.
I want to keep most of the surprises under wraps on this one, but what I'll say is this is another Satanic Panic-leaning time capsule where a band called Black Roses comes to town to rock a high school, raising eyebrows from parents and teachers.
There's a pretty spectacular bait-and-switch during the concert scene. After hearing a few bars of a schmaltzy, hair-era Michael Bolton ballad, the adults decide Black Roses are inoffensive enough, and leave the kids be. But once the doors shut, the band crank the amps, change into some sexy leather gear, and burst into a sleaze-heavy salvo that pretty much lays out their sinister intentions beat-for-beat.
All told, it's a campy, and occasional creepy farce poking fun at the "corrupting" influence of heavy metal. Some great creature effects, too — all the more impressive considering much of the team had previously delivered the static rubber monsters of Rock 'n' Roll Nightmare.
The Black Roses soundtrack is pretty interesting, alternating between tunes from legit hair bands like Bang Tango, and the made-for-the-movie Black Roses — comprising Vanilla Fudge drum veteran Carmine Appice and a few members of his then-band, King Kobra (who were also on the soundtrack).
When it comes to the Black Roses material, the ballad, "Paradise (We're On Our Way)", is supposed to be cheesy, but I dig it; "Rock Invasion" is pinch-squealed Sunset Strip bliss. That said, both songs work out for the better when delivered as a truncated medley.
Killer Tracks: "Paradise (We're On Our Way)", "Rock Invasion"