To read an article included in this Roundup, click on its blue title. It is hyperlinked so you can read the whole article.
Please feel free to share and invite others to subscribe.
_________________
Joe is always busy.
https://www.youtube.com/live/1Bb8PNsdwE4?feature=share
https://www.youtube.com/live/1Bb8PNsdwE4?feature=share
Activity at the end of last year showed the resilience of American consumers and businesses in the face of rising inflation and interest rates.
This article (link above👆) by David Dayen appears in the February edition of The American Prospect.
On July 9, 2021, President Joe Biden signed one of the most sweeping changes to domestic policy since FDR. It was not legislation: His signature climate and health law would take another year to gestate. This was a request that the government get into the business of fostering competition in the U.S. economy again.
Flanked by Cabinet officials and agency heads, Biden condemned Robert Bork's pro-corporate legal revolution in the 1980s, which destroyed antitrust, leading to concentrated markets, raised prices, suppressed wages, stifled innovation, weakened growth, and robbing citizens of the liberty to pursue their talents. Competition policy, Biden said, "is how we ensure that our economy isn't about people working for capitalism; it's about capitalism working for people."
The executive order outlines a whopping 72 different actions, but with a coherent objective. It seeks to revert government's role back to that of the Progressive and New Deal eras. Breaking up monopolies was a priority then, complemented by numerous other initiatives—smarter military procurement, common-carrier requirements, banking regulations, public options—that centered competition as a counterweight to the industrial leviathan.
It's been a year and a half since Biden signed the executive order; its architect, Tim Wu, has since rotated out of government. Not all of the 72 actions have been completed, though many have. Some were instituted rapidly; others have been agonizing. Some agencies have taken the president's urging to heart; others haven't. But the new mindset is apparent.
Seventeen federal agencies are named specifically, tasked with writing rules, tightening guidelines, and ramping up enforcement. I wrote to each agency, asking how they have complied with the order; all of them answered but one (the Federal Deposit Insurance Corporation, whose role is admittedly tangential). Even Cabinet departments that weren't mentioned wrote in to explain their approach to competition. Clearly, agencies are aware of the emphasis being put on reorienting their mission.
Bringing change to large bureaucracies is often likened to turning around a battleship. One way to get things moving is to have the captain inform every crew member of the intention to turn the battleship around, counseling them to take every action from now on with that battleship-turning goal in mind. The small team that envisioned and executed the competition order put the weight of the presidency behind it, delivering a loud message to return to the fight against concentrations of power. It's alarming and maybe a little disconcerting that you have to use a high-level form of peer pressure to flip the ship of state. But that battleship is starting to change course. ( continues…).
_________________
Kamala is always busy.
____________
Timothy Snyder Connects the Dots.
Yesterday, Yale Professor and expert on authoritarianism, Timothy Snyder, posted 20 tweets, tying together Trump, Russia, Manafort, the recently arrested head of the New York Office of the FBI - Charles McGonigal, and the 2016 election.
I aggregated Professor Snyder's tweets in the post below 👇 which first appeared on my website, Voices4America, yesterday.
This is a story you want to read and think about. So should Merrick Garland.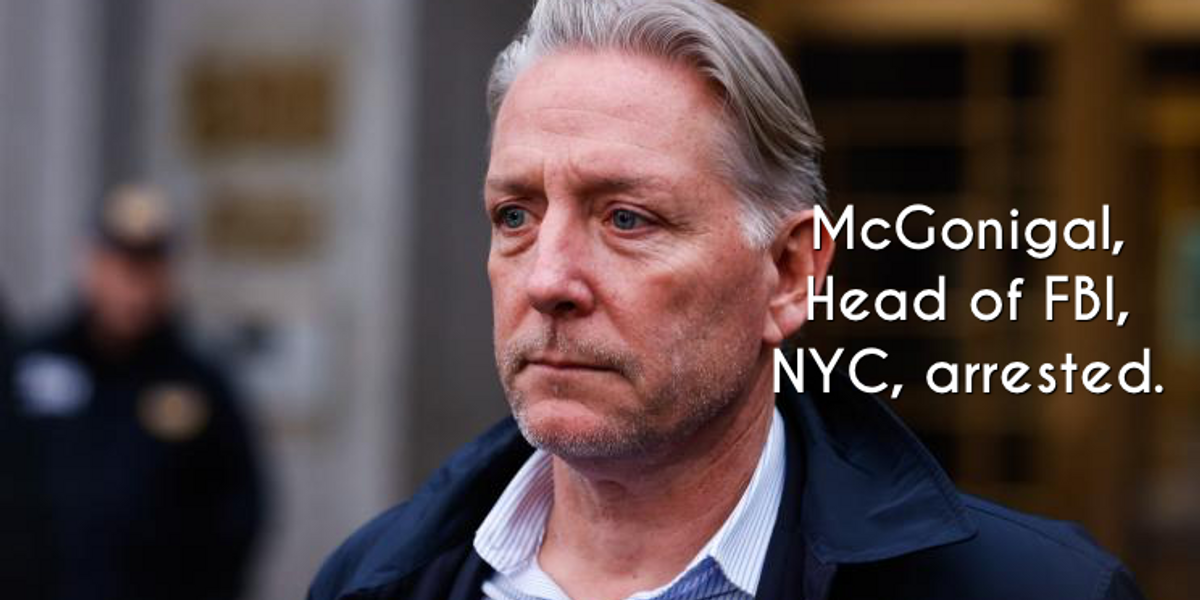 Timothy Snyder connects the dots - Trump, Russia, Manafort, Deripaska, the FBI's McGonigal and the 2016 election. - voices4america
This morning, Timothy Snyder, Levin Professor of History, Yale University, a noted expect on Russia, authoritarianism, and Trump, posted 20 interlinked Tweets, connecting Trump, Russia, Manafort, Deripaska, the FBI's McGonigal, and the 2016 election.
_________________
Lawsuits that make a difference.
A company that makes an abortion pill filed a lawsuit Wednesday morning challenging the constitutionality of a state ban on the medication, one in what is expected to be a wave of cases arguing that the federal Food and Drug Administration's approval of the pill takes precedence over such restrictive state laws.
The case was filed in federal court in West Virginia by GenBioPro, one of two American manufacturers of mifepristone, the first pill used in the two-drug medication abortion regimen. A ruling in favor of the company could compel other states that have banned abortion to allow the pills to be prescribed, dispensed and sold, according to legal experts. If the courts reject the company's arguments, some legal scholars say the decision could open the door for states to ban or restrict other approved drugs, such as Covid vaccines or morning-after pills.

Famed civil rights attorney Ben Crump is planning to file a lawsuit against Florida Gov. Ron DeSantis over the rejection of an Advanced Placement African American Studies pilot program.
Crump announced the planned lawsuit during a Wednesday news conference at the Florida Capitol, where he was joined by leaders from the American Federation of Teachers, politicians including South Florida State Sen. Shevrin Jones, and three AP honors students who will serve as the lead plaintiffs.
"We are here to give notice to Governor DeSantis that if he does not negotiate with the College Board to allow AP African-American studies to be taught in the classrooms across the state of Florida, that these three young people will be the lead plaintiffs in a historic lawsuit," Crump said.
DeSantis reiterated Monday the state's rejection of the proposed course, saying it pushes a political agenda — something three authors cited in the state's criticism accused him of doing in return.
DeSantis said his administration rejected the College Board's course because "we want education, not indoctrination." It was revealed last week that the Florida Department of Education recently told the College Board it would bar the course unless changes are made.
The state then issued a chart late Friday that says the course promotes the idea that modern American society oppresses Black people, other minorities and women, includes a chapter on "Black Queer Studies" that the administration finds inappropriate, and uses articles by critics of capitalism.
The governor said the course violates legislation dubbed the Stop WOKE Act he signed last year. It bars instruction that defines people as necessarily oppressed or privileged based on their race. At least some writers the course cites believe modern U.S. society endorses white supremacy while oppressing racial minorities, gays and women.
_________________
Shareholder actions that make a difference.
Driven by the Dobbs decision, investors seeking action on benefits, data privacy, political spending, and more
SAN FRANCISCO, Jan. 24, 2023 /PRNewswire/ -- In coordination with Rhia Ventures, investors have filed thirty-one (31) shareholder proposals addressing the intersections between corporate policy and reproductive health care, more than doubling the volume of last year's activity.
The proposals addressed employer-provided insurance and benefits, data privacy, political spending, and related matters in various industries.
This year's filings build on a shareholder initiative launched in 2019. "Rhia Ventures is working with a network of institutional investors who are intent on seeing that the companies they hold in their portfolios do all they can to ensure access to the best reproductive and maternal health care," said Rhia Ventures director of corporate engagement Shelley Alpern. "Together, these investors have engaged with numerous companies to drive changes in policy and practice." Before this year, investors had collectively filed 28 shareholder proposals on this topic.
In the 2022 proxy season, before last year's US Supreme Court decision ending the constitutional right to abortion protections (Dobbs v. Jackson Women'sHealth Organization), eleven proposals came to a vote concerning access to reproductive health care. Those proposals garnered significant support (30-47% of votes cast). Since the June ruling, more than 200 businesses have publicly disclosed or acknowledged improved benefits to support their employees as they navigate mounting obstacles to accessing abortion and other forms of reproductive health care. Rhia Ventures maintains an online database tracking these announcements at #WhatAreYourReproBenefits).
This year's proposals fall into several categories:
Ten proposals address corporate support for politicians and political committees seeking to deny access to reproductive health care in contradiction to their stated values.

Nine proposals address threats to the privacy of reproductive health data collected and maintained by companies.

Six call upon companies to report to shareholders on the risks posed to their companies by restrictive state policies and any strategies they are undertaking to minimize or mitigate these risks.

Proposals were filed at two hospital companies concerning their policies around providing abortions.

Three health insurance companies received proposals concerning their plan offerings concerning abortion and contraception.

A proposal encouraging strong maternal health care benefits was filed at one retailer.
(Prnewswire)
______________
The California Senate Race is Hot.
Two weeks ago, this 👇 happened.
Katie Porter Makes Huge Announcement - YouTube
Democratic congresswoman Katie Porter has announced her 2024 run for Senate, aiming to replace sitting Democratic Senator Dianne Feinstein. Here's why this a…
Touch the tweet below 👇to see Representative Adam Schiff's official announcement that he too is running for the Senate to replace Diane Feinstein (D-CA).
Repeat. 89 year old sitting Senator from California, Diane Feinstein, has yet to say she will not run again.
_________________
9/11 taught NYC that without Broadway, New York's economy almost doesn't exist.
Broadway is a unique magnet, supporting restaurants, hotels, transportation, small businesses. The numbers stagger.
Broadway is big business. Really big business. The latest statistics reveal that Broadway attendance in the 2018-2019 season reached 14.77 million and the season grossed $1.83 billion. Overall, Broadway contributes $14.7 billion to the economy of New York City on top of ticket sales and supports 96,900 local jobs. Broadway is so productive that attendance for the 2018-2019 season topped those of the ten professional NYC Metro-area sports teams combined (Mets, Yankees, Rangers, Islanders, Knicks, Liberty, Giants, Jets, Devils and Nets).
League, it is unlikely this year they will reach the same attendance as 2019. "We are currently at between 85-88% of the 2019 numbers," she says. "But we are continuing to grow the audience and maintain the ones we get so we are confident that by 2025 or 2026 we should be back to similar attendance. International travel was between 14-20% of our attendance and international travel to New York City is still lagging. Domestic travel is greater than anticipated and is making up some, but not all of the difference. NYC & Company is optimistic about the future, and we are closely tied to the tourism numbers." (Source. Forbes).